ATM skimmers become ever-more advanced, some thieves take the old-fashioned route and crack them right open, but there's a much quieter, high-tech form of theft targeting ATMs. It's called skimming. This is what happens when crooks take the idea of ATM
hacking
a little too literally.
A recent attack has been conducted in which three wannabe robbers went to town to smash a wall-mounted cash machine with crowbars and hammers. An ATM technician and KrebsOnSecurity reader has revealed the photos of this attack.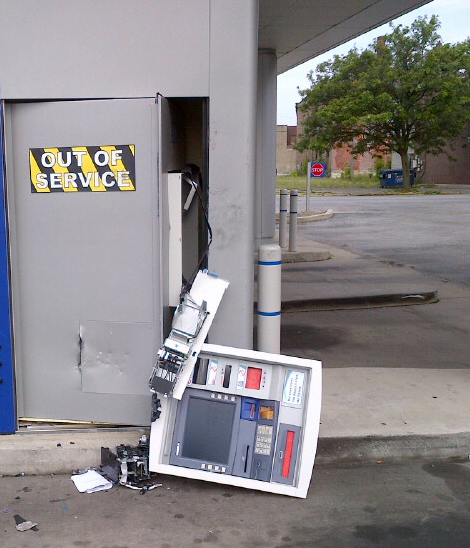 Source: Krebsonsecurity
According to the technician, the burglars ruined a $13,000 cash acceptor, a $5,000 check scanner, a $900 monitor, and a $700 card reader, among many other pricey items. They damaged almost every single part of the machine.
The criminals attempted to work their way into a cash machine using brute force. While they managed to make a real mess of the outer casing, they barely managed to scratch the cash-containing safe hinge as shown below which conceivable explains that if you're going to use unsophisticated techniques to break into an ATM, you may as well use explosives instead of crowbars.
Source: Krebsonsecurity
This incident resulted in a great devastation that looks like something out of a bad Transformers movie.
According to European ATM Security Team (EAST), the real pros came armed with thermal tools to cut into the thick metal parts. These so-called whiz-bangs were not carrying the right tools for the job.
The malefactors draped flame-retardant cloth around the ATM while they exerted all their efforts cutting into the cash machine with a gas-powered torch.
In December 2014, there was a series of attacks on ATMs in Europe in which criminals attempt to blast open the cash machines with explosive gas. Since then, Bloomberg Business has published "Boom," a detailed look at the growth of explosive gas attacks on ATMs since 2013.